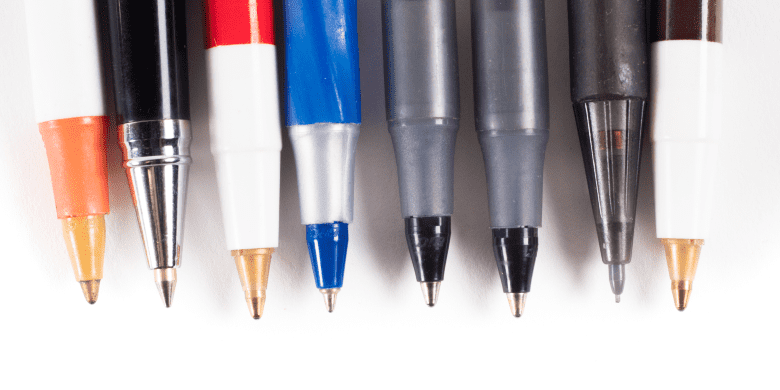 24 February, 2022
Picking The Right Custom Pen For Your Promotion
Let's face it. Pens are here to stay. Don't believe all the talk about a paperless society. So, because of this, custom pens are still very popular to use to promote things such as businesses, charities or for marking special events such as anniversaries or school graduation days. Picking the right pen to promote your brand is important. The last thing you want is for a pen to clump up and stop working or worse still, to spring a leak. The pen you choose should be comfortable to hold and easy to write with.
People have their favourite pens, so picking the right style to make your pen their favourite means there are several things you need to consider.
Type of grip
Colour of pen
Branding size
Size of refill
Type of mechanism
Target audience
Type of Grip: Have you ever received a pen and then when you try to write with it your fingers slide up and down the barrel? You get frustrated and end up either throwing the pen away or chucking it into the depths of your drawer to be forgotten about. The easiest way to avoid your pen having the same ending is to make sure the pen you choose has a grip area. It can be either a rubber or silicone grip or keep it simple such as dimples or even rib cuts. Whatever you choose, make sure there is something near the nib that people can grip onto.
Colour of the pen: Get your pen noticed. Pick bright colours that people will be attracted to. When they are going through their drawer to pick a pen to write with, a bright coloured orange or neon lime will grab people's attention and hence be their preferred pen.
Branding Size: How much information you want to put on a pen will determine the size you need. Any pen with a print area of 6mm or under means you can only fit one line of text. If you are wanting to print both a website and phone number, look for a pen that has at least a 7mm high print area to ensure there is enough space for everything you want to print.
Size Of Refill: Usually, the cheaper the pen, the smaller the refill. The smaller the refill, then the less time the pen will last. Try and get a pen with at least 1500m writing distance. Some of the better quality ones will have up to 2500m. You will pay a little extra, but it is worth it, as it means the pen can last up to 6 months longer than one with a smaller refill.
Type of Mechanism: There are two styles of opening a pen. Push-button or twist. In our experience, push-button is by far the most popular. The main reason for this is you can get access to the pen with one hand. In a twist-action, you need to use both hands, which at times can be very inconvenient. To make your pen more popular, we recommend a push-button action pen
Target Audience: This is important. If you are meeting existing clients and want to say thank you for ongoing business, you don't want to give them a throwaway plastic pen. They should be receiving a nice quality metal pen that shows your appreciation. On the flip side, if you are attending a trade show where you potentially will have hundreds of visitors in the coming days, you don't want to blow your budget with more expensive metal pens, when a good quality plastic pen will do the job for a much cheaper price.
Do you need custom pens for an upcoming promotion? If you are unsure what would work best for you, we'd be happy to help. Please send us an email or give us a call and we'd be happy to help.
The Printed Pens Team